You may be thinking of giving someone a monogram gift for their wedding or maybe you just want to add a monogram to your robe. Adding a monogram is a great way to make any gift more personal. It can make a set a linens more unique and it shows that you went to extra lengths just to get something special and meaningful to the the recipient of your gift.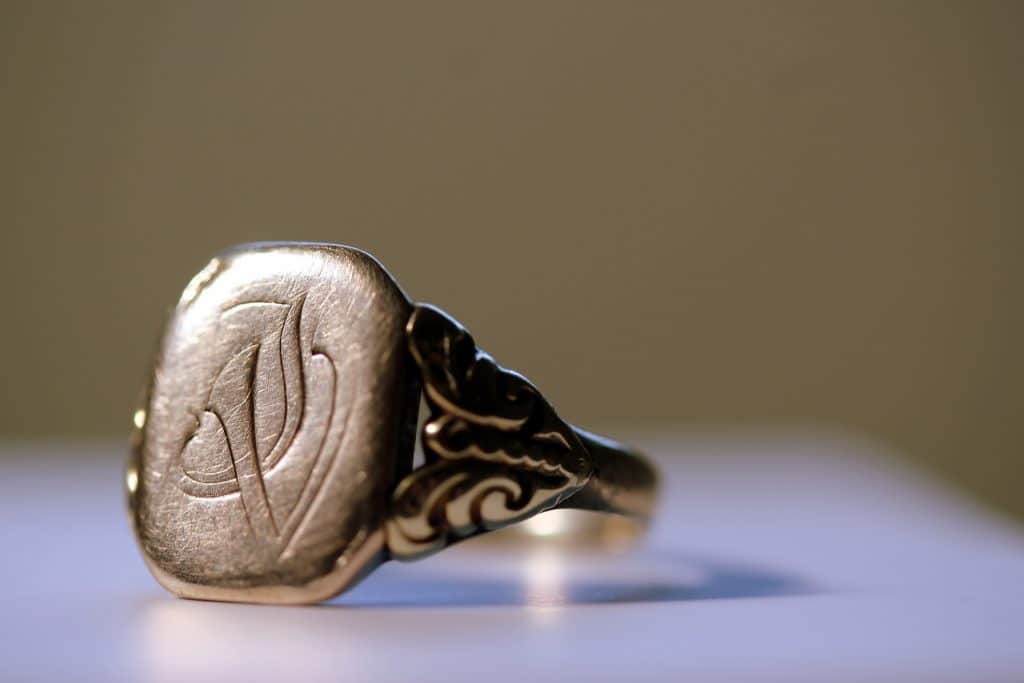 So you probably are thinking that there's not much to getting a monogram added to something. How hard can it be to add initials to something. But there are rules that you need to keep in mind so that you can get something that looks good.
What Is It?
A monogram is simply someone's initials used for decorating something such as a shirt, a robe, glassware or anything that can be personalized. You can use different fonts, different font sizes and put the initials in a particular order.
Is There a Set Order for Initials?
There is an order and people can get confused because they seem to not be in the correct order. There are different rules depending on how many letters you are going to be using.
One Letter Rules
If you are just going to add one letter on an item, then choose either the first name or last name for the letter. If they have a nickname, you could use that letter instead.
Traditional monograms using only one letter typically use the surname, but many are now using the first name initial. If you think the recipient would prefer their first name initial, then that's what you should use.
Three Letters
Three letter monograms can be a bit more complicated. The order of the initials are often determined by what font sizes you are using throughout the monogram. The traditional rule is to use their first name initial, their last name initial and their last name initial.
Choose a Monogram Style
After determining the order of the initials, you need to decide on the style. The main thing to figure out is whether you want all the letters the same size or if you want the last name initial that is in the center to be the largest.
Monograms for Newlyweds
If the couple shares the last name, then you can follow the traditional rule using three letters.
If the partners keep their own last name, you can use only two initials and use the first and last name initials and keep all fonts the same size. If you keep your maiden name and your partner's last name, the middle initial can be substituted.
If you are using three initials and all font sizes are the same, the order of the initials will be in order.
Monograms for Children
Children's monograms follow the same rules. If you are using three initials, you can make the last name initial the largest font size and put it in the center. If you are using the same font size for all three letters then you keep the initials in their natural order.
Now you have to determine where you want to place the initials on the item.
Monogram Gifts to Give
We will share some great gift ideas that you can personalize.
Glassware
A newly married couple will appreciate a new set of wine glasses that are monogrammed. Just be sure to add their favorite bottle of wine! Bath Robes
These can be the perfect gift for just about anyone.This gift can often feel more luxurious when you get it monogrammed. Purses, Handbags and Tote Bags
A small monogram that doesn't take away from the overall design can make a woman feel extra special. If you are giving a larger bag such as a beach bag, the monogram is often much larger.
Linens
You can get everything from bed sheets to hand towels monogrammed which is a simple and easy way to decorate and personalize even simple linen items.
Jewelry
Getting someone a necklace, bracelet or ring that has their initials or initial will make anyone on the receiving end feel special and will likely be a piece of jewelry that they treasure forever.
You can find many ways to personalize a gift that will make it an item they will want to keep forever. Use these simple monogram rules to add a special touch to your gifts.